Curse of the Dead Gods
NOTICE: Activation key must be used on a valid Steam account. Requires an internet connection.
About the game
You seek untold riches, eternal life, divine powers - it leads to this accursed temple, a seemingly-infinite labyrinth of bottomless pits, deadly traps, and monsters.
Use weapons, the environment, your brains and skills to defeat the temple
Collect mystical Relics and an arsenal of weapons to make yourself unstoppable. Battle through hordes of enemies in dark, cavernous passages filled with traps and secrets of all sorts - fire-spewing statues, explosives, hidden spikes, and worse.
Play your way and turn curses to your advantage
Corruption builds in you with every step - encourage or ignore it, but each powerful curse can be a double-edged sword.
Greed will kill you, greed will save you
Your greed will lead you to death, but that is not an escape. Rise to fight again. Delve deeper again. Defy the malignant deities that linger in this place.
Key features
A skill-based roguelike exploring a cruel, dark temple made of endless rooms and corridors
Swords, spears, bows, guns - wield these and many more
Light and fire will be your best allies to overcome the threats that lie in the shadows
Unique curses influence each attempt, putting a twist on every action
Dozens of enemies, with powerful champions and deadly bosses to face off against
system requirements
Windows - Minimum
OS: Windows 7/8/10
Processor: Intel Core i3-2125 (3.3 GHz)/AMD FX-4100 (3.6 GHz)
RAM: 4 GB RAM
Graphics card: 2 GB, GeForce GTX 660/Radeon R7 370
HDD: 2 GB
Windows - Recommended
OS: Windows 7/8/10
Processor: Intel Core i7-3820 (3.6 GHz)/AMD FX-8350 (4.0 GHz)
RAM: 8 GB RAM
Graphics card: 2 GB, GeForce GTX 760/Radeon R9 280
HDD: 2 GB
© 2020 Curse of the Dead Gods, developed by Passtech Games, published by Focus Home Interactive.
Required configuration
Windows - Minimum
OS: Windows 7/8/10
Processor: Intel Core i3-2125 (3.3 GHz)/AMD FX-4100 (3.6 GHz)
RAM: 4 GB RAM
Graphics card: 2 GB, GeForce GTX 660/Radeon R7 370
HDD: 2 GB
Windows - Recommended
OS: Windows 7/8/10
Processor: Intel Core i7-3820 (3.6 GHz)/AMD FX-8350 (4.0 GHz)
RAM: 8 GB RAM
Graphics card: 2 GB, GeForce GTX 760/Radeon R9 280
HDD: 2 GB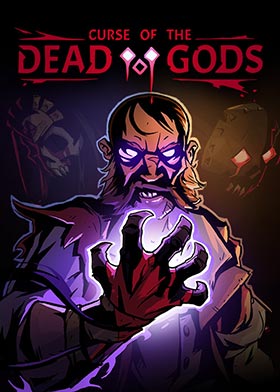 Language:

English

Genre:

Platform:

PC Win 7 32/64 bits Win 8 32/64 bits Win 8.1 32/64 bits Win 10 32/64 bits

Release date:

2020-03-03

Publisher