Pix The Cat
NOTICE: Activation key must be used on a valid Steam account, requires internet connection.
About the game
In Pix the Cat, you are Pix, the first cat in the world to play his own game!
Progress in the Grid of Infinity, deeper and deeper through its nested levels. Hatch the eggs to stack up ducklings behind you. Drop them off at target circles to set them free. Avoid hitting walls and obstacles at all costs! Still with me?
Developed by the French studio Pastagames, who created the excellent Rayman Jungle Run, Pix the Cat is a critically acclaimed intense arcade game that will challenge your reflexes and your wits, pitting you against your friends and the world in a race to the highest score!
In the Arcade mode, make your way through the flashy digital levels, pulsing to a galvanizing groove that won't fail to make your heart skip a beat or two! With art that feels dug up from an old attic, the Nostalgia mode is an adventure oozing with surprises! Each of the 70 levels offers a new skill challenge and yet another blister under your thumb! In the Laboratory, your results are measured by your number of moves. Keep them minimal while dodging dangers to collect the bonus stamp!
Finally, joust against your friends in the local battle mode hosting up to four PixBots!
System requirements
PC Minimum
OS: WINDOWS XP/VISTA/7/8
Processor: AMD/INTEL DUAL-CORE 2.2 GHZ
Ram: 2048 MB
Graphics card: 256 MB 100% OPENGL 3.0 COMPATIBLE
AMD RADEON HD 5000 SERIES/NVIDIA GEFORCE 9000 SERIES/INTEL HD 4000 SERIES OR HIGHER
Hard disk space: 1 GB
Sound card: OPENAL COMPATIBLE
Internet connection required for activation
©2015 Pastagames. Published and distributed by Focus Home Interactive on PC under license from Pastagames. All rights reserved. All names, trademarks and logos are property of their respective owners.
Required configuration
PC Minimum
OS: WINDOWS XP/VISTA/7/8
Processor: AMD/INTEL DUAL-CORE 2.2 GHZ
Ram: 2048 MB
Graphics card: 256 MB 100% OPENGL 3.0 COMPATIBLE
AMD RADEON HD 5000 SERIES/NVIDIA GEFORCE 9000 SERIES/INTEL HD 4000 SERIES OR HIGHER
Hard disk space: 1 GB
Sound card: OPENAL COMPATIBLE
Internet connection required for activation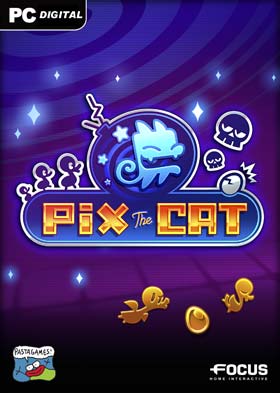 Language:

English

Genre:

Platform:

Vista Win XP Win 7 32/64 bits Win 8 32/64 bits

Number of players:

1 - 4

Release date:

2015-01-29

Publisher