Vampyr
NOTICE: Activation key must be used on a valid Steam account. Requires internet connection.
About the game
CURSED BE THE CHOICE…
London, 1918. You are newly-turned Vampyr Dr. Jonathan Reid. As a doctor, you must find a cure to save the city's flu-ravaged citizens. As a Vampyr, you are cursed to feed on those you vowed to heal.
Will you embrace the monster within? Survive and fight against Vampyr hunters, undead skals, and other supernatural creatures. Use your unholy powers to manipulate and delve into the lives of those around you, to decide who will be your next victim. Struggle to live with your decisions… your actions will save or doom London.
Key Features
BE THE VAMPYR – Fight and manipulate with supernatural abilities
FEED TO SURVIVE – Be the savior and the stalker
SHAPE LONDON – A web of interconnected citizens reacts to your decisions
System Requirements
Windows - Minimum
OS: Windows 7/8/10 (64 bits)
Processor: Intel Core i3-2130 (3.4 GHz)/AMD FX-4100 (3.6 GHz)
Memory: 8 GB RAM
Graphics: 2 GB, GeForce GTX 660/Radeon R7 370
Storage: 20 GB available space
Windows - Recommended
OS: Windows 7/8/10 (64 bits)
Processor: Intel Core i7-3930K (3.2 GHz)/AMD Ryzen 5 1600 (3.2 GHz)
Memory: 16 GB RAM
Graphics: 4 GB, GeForce GTX 970/Radeon R9 390
Storage: 20 GB available space
© 2017 DONTNOD Entertainment and Focus Home Interactive. VAMPYR is developed by DONTNOD Entertainment and published by Focus Home Interactive. VAMPYR and its logo are registered trademarks of Focus Home Interactive. All other trademarks or registered trademarks belong to their respective owners. All rights reserved.
Required configuration
Windows - Minimum
OS: Windows 7/8/10 (64 bits)
Processor: Intel Core i3-2130 (3.4 GHz)/AMD FX-4100 (3.6 GHz)
Memory: 8 GB RAM
Graphics: 2 GB, GeForce GTX 660/Radeon R7 370
Storage: 20 GB available space
Windows - Recommended
OS: Windows 7/8/10 (64 bits)
Processor: Intel Core i7-3930K (3.2 GHz)/AMD Ryzen 5 1600 (3.2 GHz)
Memory: 16 GB RAM
Graphics: 4 GB, GeForce GTX 970/Radeon R9 390
Storage: 20 GB available space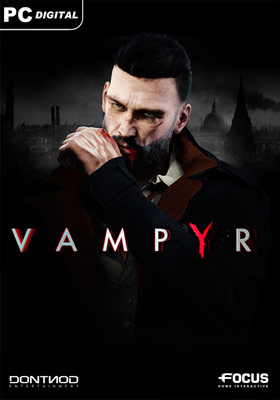 Language:

English

Genre:

Platform:

Win 7 64 bits Win 8 64 bits Win 10 64 bits

Number of players:

1

Release date:

2018-06-05

Publisher