Blood Bowl 2: Official Expansion + Team Pack
Blood Bowl 2: Official Expansion + Team Pack
NOTICE: Requires the base game Blood Bowl 2 in order to play. Activation key must be used on a valid Steam account. Requires internet connection.
About the game
Upgrade your Blood Bowl®2 game to the Legendary Edition with this package!
Play with 24 races, each race coming along with their Star Players. Experience new game modes such as the new solo Eternal League, or the new Challenge mode. For the first time in the history of Blood Bowl, spice up your matches with teams made up from a combination of different races, or go wild and lead a team of All-Star Players!
A wealth of new features and options for multiplayer will expand the possibilities offered to communicate with other players, create, set up and customize your online leagues and competitions.
Blood Bowl2®: Official Expansion + Team Pack includes:
Blood Bowl 2®: Team Pack - This pack contains all the following DLC teams: Chaos Dwarfs, Khemri, Necromantic, Nurgle, Undead, Norse, Lizardmen and Wood Elves.
Blood Bowl 2®: Official Expansion - The Blood Bowl2®: Official Expansion gives you access to 8 new races, tons of new multiplayer modes and tools, a new solo experience, the All-Star Players and Mixed teams, a new Khemri stadium and other Nuffle-worthy additions!
System Requirements
Windows - Minimum
OS*: WINDOWS VISTA/WINDOWS 7/WINDOWS 8
PROCESSOR: AMD/INTEL DUAL-CORE 2.5 GHZ
RAM MEMORY: 3072 MB
GRAPHICS CARD: 768 MB 100% DIRECTX 10 AND SHADERS 4.0 COMPATIBLE / ATI RADEON HD 5670/NVIDIA GEFORCE GTX 260 OR HIGHER
DVD-ROM: 2X DRIVE
HARD DISK SPACE: 8 GB
SOUND CARD: DIRECTX COMPATIBLE
INTERNET CONNECTION REQUIRED FOR THE GAME ACTIVATION
*WINDOWS XP NOT SUPPORTED
Mac - Minimum
OS: MAC OS X 10.10/MAC OS X 10.11
PROCESSOR: INTEL CORE I5 3 GHZ
RAM MEMORY: 4096 MB
GRAPHICS CARD: ATI RADEON HD 6970M/NVIDIA GEFORCE GT 650M OR HIGHER
HARD DISK SPACE: 8 GB
INTERNET CONNECTION REQUIRED FOR ONLINE GAMING AND GAME ACTIVATION
Blood Bowl 2: Legendary Edition © Copyright Games Workshop Limited 2017. Blood Bowl 2 Legendary Edition, Blood Bowl 2 Legendary Edition logo, Blood Bowl, the Blood Bowl logo, GW, Games Workshop, Warhammer, and all associated logos, illustrations, images, names, creatures, races, vehicles, locations, weapons, characters, and the distinctive likeness thereof, are either ® or TM, and/or © Games Workshop Limited, variably registered around the world, and used under licence. Published by Focus Home Interactive, developed by Cyanide Studios. All rights reserved to their respective owners.
Required configuration
Windows - Minimum
OS*: WINDOWS VISTA/WINDOWS 7/WINDOWS 8
PROCESSOR: AMD/INTEL DUAL-CORE 2.5 GHZ
RAM MEMORY: 3072 MB
GRAPHICS CARD: 768 MB 100% DIRECTX 10 AND SHADERS 4.0 COMPATIBLE / ATI RADEON HD 5670/NVIDIA GEFORCE GTX 260 OR HIGHER
DVD-ROM: 2X DRIVE
HARD DISK SPACE: 8 GB
SOUND CARD: DIRECTX COMPATIBLE
INTERNET CONNECTION REQUIRED FOR THE GAME ACTIVATION
*WINDOWS XP NOT SUPPORTED
Mac - Minimum
OS: MAC OS X 10.10/MAC OS X 10.11
PROCESSOR: INTEL CORE I5 3 GHZ
RAM MEMORY: 4096 MB
GRAPHICS CARD: ATI RADEON HD 6970M/NVIDIA GEFORCE GT 650M OR HIGHER
HARD DISK SPACE: 8 GB
INTERNET CONNECTION REQUIRED FOR ONLINE GAMING AND GAME ACTIVATION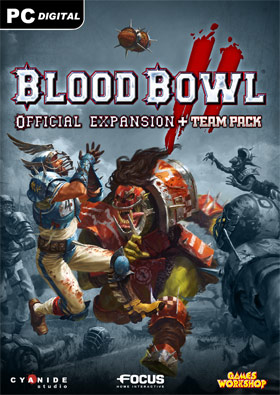 Language:

English

Genre:

Platform:

Vista Win 7 32/64 bits Win 8 32/64 bits

Mac OS X

Number of players:

1+

Release date:

2017-09-05

Publisher