Blood Bowl 2 - Khemri DLC
NOTICE: Requires the base game Blood Bowl 2 in order to play. Activation key must be used on a valid Steam account. Requires internet connection.
About the game
Over 8,000 years ago, the Khemri played the first ever games of Blood Bowl against the Slann. As the kingdom died off, so too did the game, until its rediscovery many centuries later and with the game's revival, it was inevitable that these ancient players would return to play again.
Being dead has its advantages, not only do they possess the Regeneration skill but due to certain arcane devices dragged up from the tombs of the dead, some Khemri players also benefit from Block and Pass too. This means that the Khemri team surpasses the other Undead teams when playing the ball as they can run and pass almost as well as similar players of the living races.
Having a few faster players who can pass and run with the ball has its advantages but not if their team mates can't keep up with them. With the majority of its team made up of shambling Skeletons and lumbering Mummies, the Khemri Coach needs all his centuries of experience not to lose his most useful players early on in the game.
System Requirements
Windows - Minimum
OS*: WINDOWS VISTA/WINDOWS 7/WINDOWS 8
PROCESSOR: AMD/INTEL DUAL-CORE 2.5 GHZ
RAM MEMORY: 3072 MB
GRAPHICS CARD: 768 MB 100% DIRECTX 10 AND SHADERS 4.0 COMPATIBLE / ATI RADEON HD 5670/NVIDIA GEFORCE GTX 260 OR HIGHER
DVD-ROM: 2X DRIVE
HARD DISK SPACE: 8 GB
SOUND CARD: DIRECTX COMPATIBLE
INTERNET CONNECTION REQUIRED FOR THE GAME ACTIVATION
*WINDOWS XP NON SUPPORTED
Blood Bowl 2 © Copyright Games Workshop Limited 2017. Blood Bowl 2, Blood Bowl 2 logo, Blood Bowl, the Blood Bowl logo, GW, Games Workshop, Warhammer, and all associated logos, illustrations, images, names, creatures, races, vehicles, locations, weapons, characters, and the distinctive likeness thereof, are either ® or TM, and/or © Games Workshop Limited, variably registered around the world, and used under licence. Used under license. All Right Reserved.
Required configuration
Windows - Minimum
OS*: WINDOWS VISTA/WINDOWS 7/WINDOWS 8
PROCESSOR: AMD/INTEL DUAL-CORE 2.5 GHZ
RAM MEMORY: 3072 MB
GRAPHICS CARD: 768 MB 100% DIRECTX 10 AND SHADERS 4.0 COMPATIBLE / ATI RADEON HD 5670/NVIDIA GEFORCE GTX 260 OR HIGHER
DVD-ROM: 2X DRIVE
HARD DISK SPACE: 8 GB
SOUND CARD: DIRECTX COMPATIBLE
INTERNET CONNECTION REQUIRED FOR THE GAME ACTIVATION
*WINDOWS XP NON SUPPORTED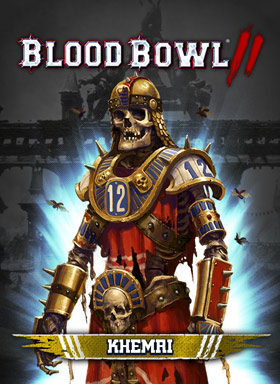 Language:

English

Genre:

Platform:

Vista Win 7 32/64 bits Win 8 32/64 bits

Number of players:

1+

Release date:

2017-02-14

Publisher