Blood Bowl 2 - Team Pack
NOTICE: Requires the base game Blood Bowl 2 in order to play. Activation key must be used on a valid Steam account. Requires internet connection.
About the game
Extend your gaming experience of Blood Bowl®2 with the Blood Bowl®2: Race Pack adding 8 playable races to your game. This bundle contains the following DLCs:
Chaos Dwarfs
The Chaos Dwarfs teams come with their Hobgoblins, Minotaur and Chaos Dwarf Blockers and are defence-oriented, benefiting from the great velocity of their Bull Centaur retrievers and from a very powerful front line that can endure (and apply) a lot of pressure.
Khemri
Over 8,000 years ago, the Khemri played the first ever games of Blood Bowl against the Slann with their Tomb Guardians, Blitz-Ras, Thro-Ras and Skeletons. It was inevitable that these ancient players would return. Not only do they possess the Regeneration skill but some players also benefit from Block and Pass.
Necromantic
The Necromantic come with Werewolves, Flesh Golems, Ghouls, Zombies and Wights. These lethal killing machines are their main attacking force, providing pure psychopathic fury and claws that can render armour utterly useless.
Nurgle
The teams of Nurgle come with their Rotters, Pestigors, Nurgle Warriors and Beasts. As with most Chaos teams, the Nurgle team is at its best when it can get stuck in and directly take on opposing players.
Undead
The Undead race comes with Mummies, Ghouls, Skeletons, Zombies and Wights players but also their own star players: Ramtut III and Count Luthor Von Drakenborg! Thanks to their Block skills and their good agility, the Wights are central players for the Undead teams.
Norse
The Norse race comes with its own official players: Lineman, Berserker, Runner, Thrower, Ulfwerener, Yhetee. This rolling roadblock may not be the fastest team on the pitch, but with most players benefiting from Block it's certainly one of the toughest.
Lizardmen
The Lizardmen race comes with its own unique AI and players (skinks, Saurus and Kroxigor) but also their own star players: Slibli and Hemlock! Skinks are very fast and nimble. Bringing the ball to the goal line is not a problem for them. While very mobile, Saurus are also amazingly powerful.
Wood Elves
The Wood Elves come with their Passers, Wardancers, Catchers, linemen, Treeman but also their own star players: Dolfar Longstride and Jordell Freshbreeze! Elves are amazingly agile and almost as fast as Skaven.
System Requirements
Windows - Minimum
OS*: WINDOWS VISTA/WINDOWS 7/WINDOWS 8
PROCESSOR: AMD/INTEL DUAL-CORE 2.5 GHZ
RAM MEMORY: 3072 MB
GRAPHICS CARD: 768 MB 100% DIRECTX 10 AND SHADERS 4.0 COMPATIBLE / ATI RADEON HD 5670/NVIDIA GEFORCE GTX 260 OR HIGHER
DVD-ROM: 2X DRIVE
HARD DISK SPACE: 8 GB
SOUND CARD: DIRECTX COMPATIBLE
INTERNET CONNECTION REQUIRED FOR THE GAME ACTIVATION
*WINDOWS XP NON SUPPORTED
Blood Bowl 2 © Copyright Games Workshop Limited 2017. Blood Bowl 2, Blood Bowl 2 logo, Blood Bowl, the Blood Bowl logo, GW, Games Workshop, Warhammer, and all associated logos, illustrations, images, names, creatures, races, vehicles, locations, weapons, characters, and the distinctive likeness thereof, are either ® or TM, and/or © Games Workshop Limited, variably registered around the world, and used under licence. Used under license. All Right Reserved.
Required configuration
Windows - Minimum
OS*: WINDOWS VISTA/WINDOWS 7/WINDOWS 8
PROCESSOR: AMD/INTEL DUAL-CORE 2.5 GHZ
RAM MEMORY: 3072 MB
GRAPHICS CARD: 768 MB 100% DIRECTX 10 AND SHADERS 4.0 COMPATIBLE / ATI RADEON HD 5670/NVIDIA GEFORCE GTX 260 OR HIGHER
DVD-ROM: 2X DRIVE
HARD DISK SPACE: 8 GB
SOUND CARD: DIRECTX COMPATIBLE
INTERNET CONNECTION REQUIRED FOR THE GAME ACTIVATION
*WINDOWS XP NON SUPPORTED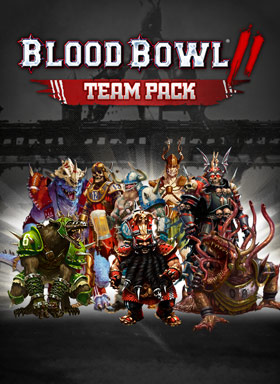 Language:

English

Genre:

Platform:

Vista Win 7 32/64 bits Win 8 32/64 bits

Number of players:

1+

Release date:

2017-02-14

Publisher