MudRunner - American Wilds Expansion
MudRunner - American Wilds Expansion
NOTICE: Requires the base game MudRunner: American Wilds in order to play. Activation key must be used on a valid Steam account. Requires internet connection.
About the game
Upgrade your MudRunner with the American Wilds Expansion and enjoy a slew of new additions, including 9 iconic US trucks from household brands like Ford, Hummer and Chevrolet, dozens of new vehicles add-ons, 2 new sandbox maps inspired by the rough lands of Montana and North Dakota, and 2 new challenge maps!
Overcome muddy terrain, raging rivers, and other obstacles that all realistically react to the weight and movement of your vehicle powered by the game's advanced physics engine. With your map, compass, winch, and your driving skills, go solo or join up to three others in the coop multiplayer.
Download mods created by the passionate community for truck-loads of content and an ever-evolving MudRunner experience.
System Requirements
Windows - Minimum
OS: Windows Vista/7/8/10 (32/64bits)
PROCESSOR: Intel® Pentium Dual Core 2.0GHz or equivalent
RAM MEMORY: 2 GB
GRAPHICS CARD: NVIDIA GeForce 9600 GT or equivalent
HARD DISK SPACE: 2 GB
DVD-ROM: 2X DRIVE
INTERNET CONNECTION REQUIRED FOR GAME ACTIVATION AND ONLINE GAMING
©2018 MudRunner - American Wilds. Developed by Saber Interactive and published by Focus Home Interactive. MudRunner is a trademark of Saber Interactive Inc. Havok software is © 2018 Microsoft. Hummer H1, Chevrolet, K5 Blazer and Bison are trademarks of General Motors LLC. Freightliner FLD120 and Western Star 6900X are trademarks of Daimler Trucks North America LLC. F150, the LTL9000 are registered trademarks of Ford. All trademarks belong to their respective owners and are used by Focus Home Interactive under license. All rights reserved.
Required configuration
Windows - Minimum
OS: Windows Vista/7/8/10 (32/64bits)
PROCESSOR: Intel® Pentium Dual Core 2.0GHz or equivalent
RAM MEMORY: 2 GB
GRAPHICS CARD: NVIDIA GeForce 9600 GT or equivalent
HARD DISK SPACE: 2 GB
DVD-ROM: 2X DRIVE
INTERNET CONNECTION REQUIRED FOR GAME ACTIVATION AND ONLINE GAMING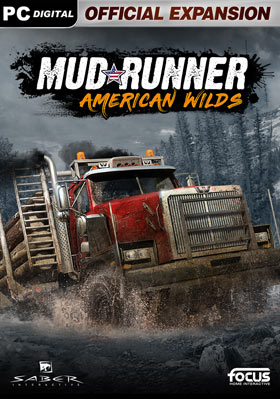 Language:

English

Genre:

Platform:

Vista Win 7 32/64 bits Win 8 32/64 bits Win 8.1 32/64 bits Win 10 32/64 bits

Number of players:

1 - 4

Release date:

2018-10-23

Publisher